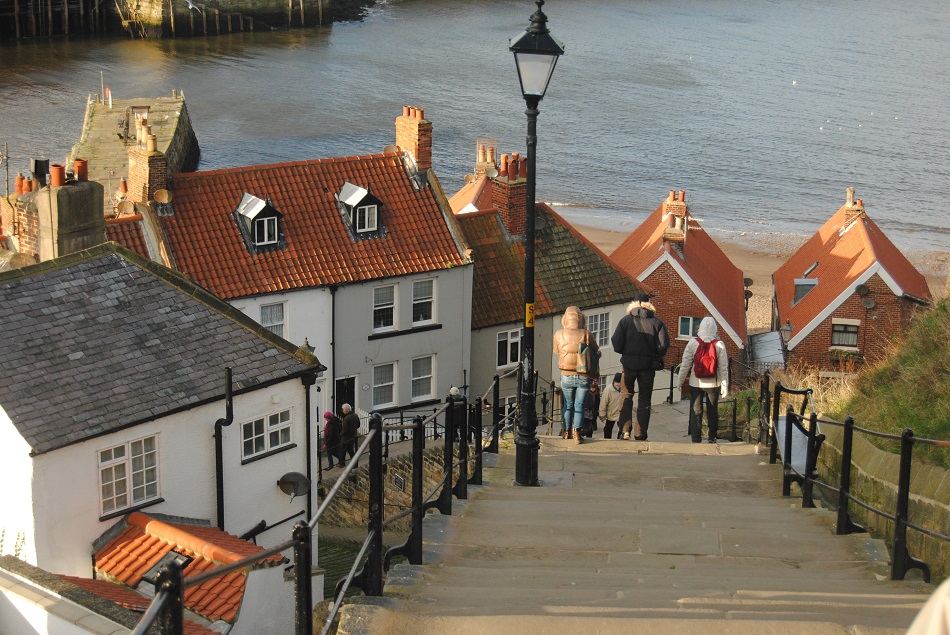 If you're not from the UK, you'd be forgiven for not knowing about the Whitby Goth Weekend. Though enormously popular among strangelings in Great Britain and nearby countries, I find many in North America are completely unaware of its existence.
The Whitby Goth Weekend (WGW or just "Whitby") is a twice-yearly festival celebrating the goth subculture. While "Whitby Goth Weekend" is a trademarked term that specifically refers to the two-night music festival, it's often used informally  to reference all the events that occur throughout the week.
When the Whitby Goth Festival is in town, the entire place turns into a wonderland of subcultures – with plenty of goths, obviously, but also a fair number of steampunk, fantasy, punk, and sci-fi fans. It also attracts a fair number of curious onlookers and bashful folks who aren't quite ready to jump into the main events. The festival has gotten broader in nature over the years, with a lot more cosplay and steampunk and less "pure goth" than in the past.
Some people call the weekend a freakshow – and we agree, but in the nicest way. It's a celebration of all that's odd and unusual, and though its popularity has caused it to become increasingly crowded (like San Diego Comic Con but on a smaller scale), we think it's wonderful that twice a year, people who are a bit different can come together in a safe, happy, and incredibly scenic place.
Why Whitby?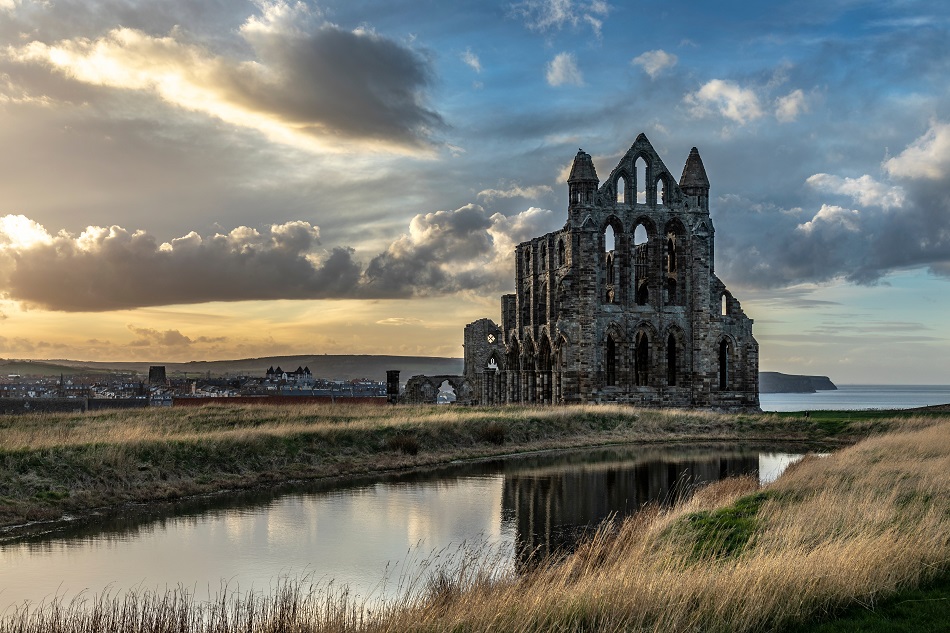 Whitby is a seaside town in North Yorkshire, England, and aside from being stunningly beautiful, it has loads of creepy cred. It was a hotbed for early smuggling activity, and some believe the town is haunted by the ghosts of smugglers who died trying to evade capture.
Whitby is also the town that inspired Bram Stoker to write Dracula. When mist covers the steep seaside town, or when darkness falls on the ruined Abbey, it's not at all hard to imagine something sinister lurking nearby.
All these things conspired to make Whitby a town that's just a little bit more accepting of the unusual – and that made it the perfect place for the twice-annual festival.
The Whitby Goth Weekend in Photos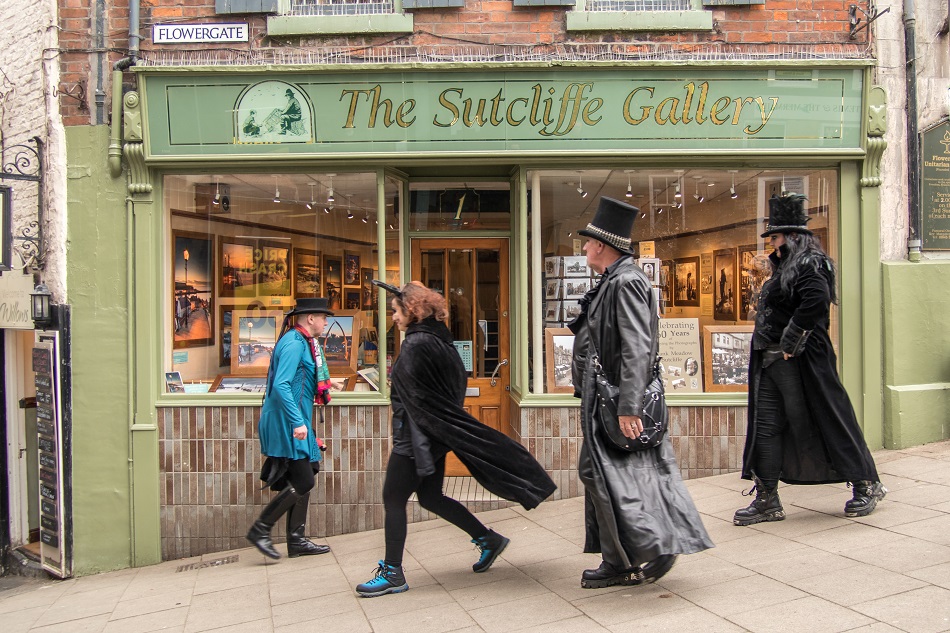 The photos below will help give you a sense of what it's like when goths take over Whitby. We know not everyone can reasonably make the trip (travel can be expensive, and the town itself presents some challenges for those with mobility-related disabilities), so we've included some photos
Whether it inspires you to go in the future or makes you long for the ability to go, we hope it will warm your heart to know there's a place and time where the strange of all ages can come together and be themselves.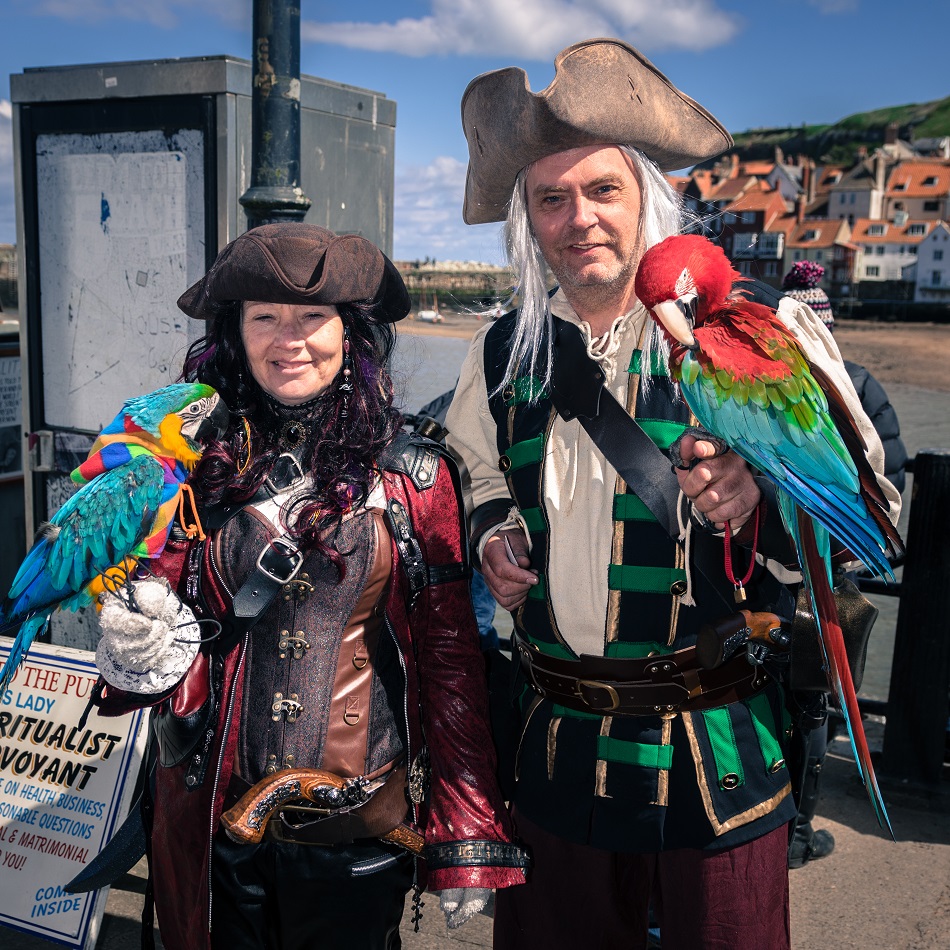 As a parrot person myself, it's pretty obvious these are well-loved birds. Macaws are big enough that if they weren't confident and well-cared for, they certainly wouldn't be this calm in a crowd.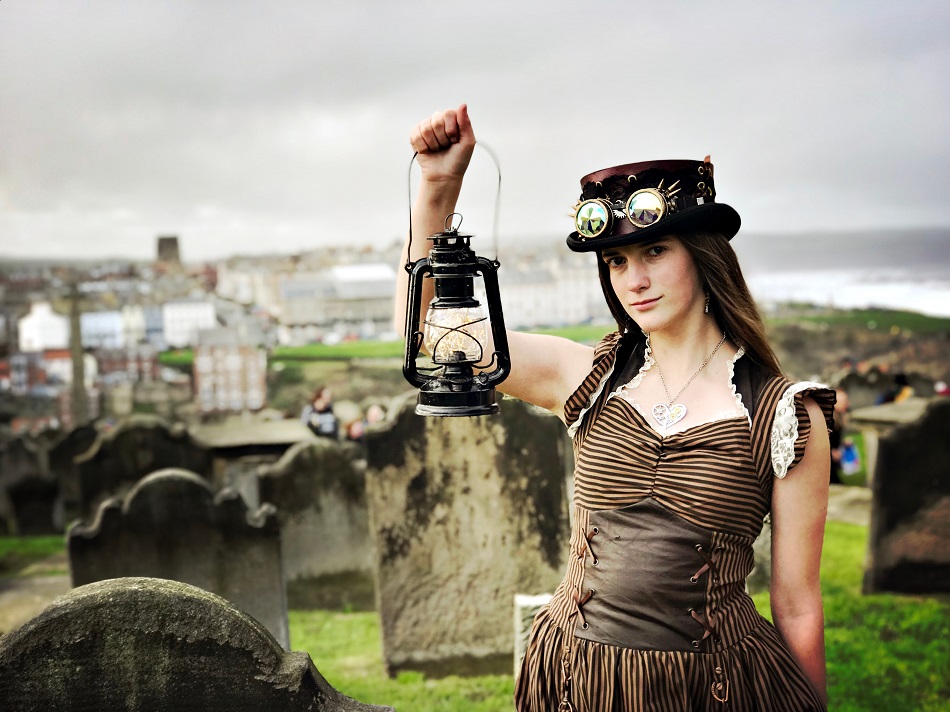 The Whitby Goth Weekend wouldn't be quite the same if it were held in a place like Reading or Hemel Hempstead. Between the ruined Abbey, the cemetery, and the dark North Sea, the town offers as much atmosphere as the people.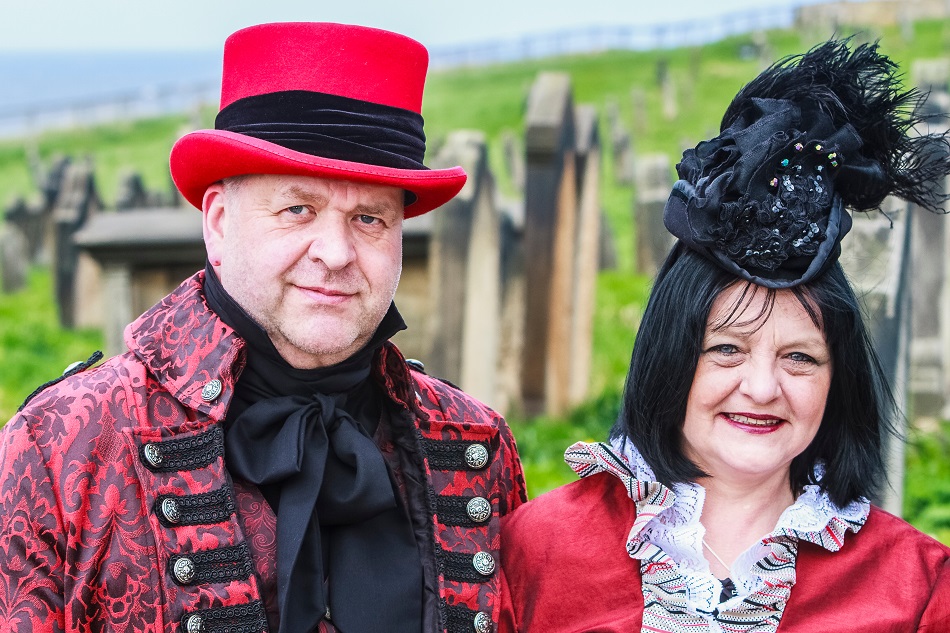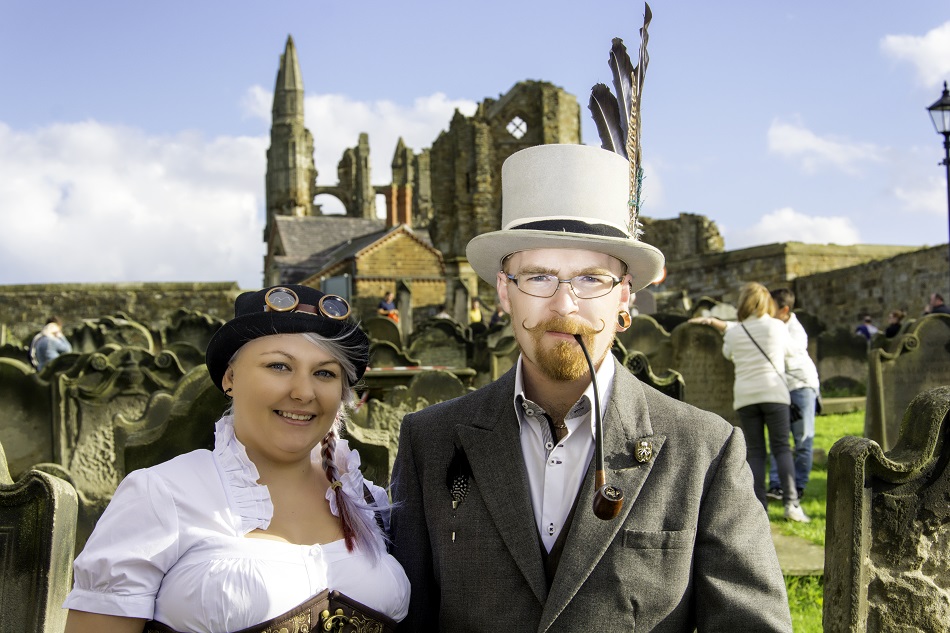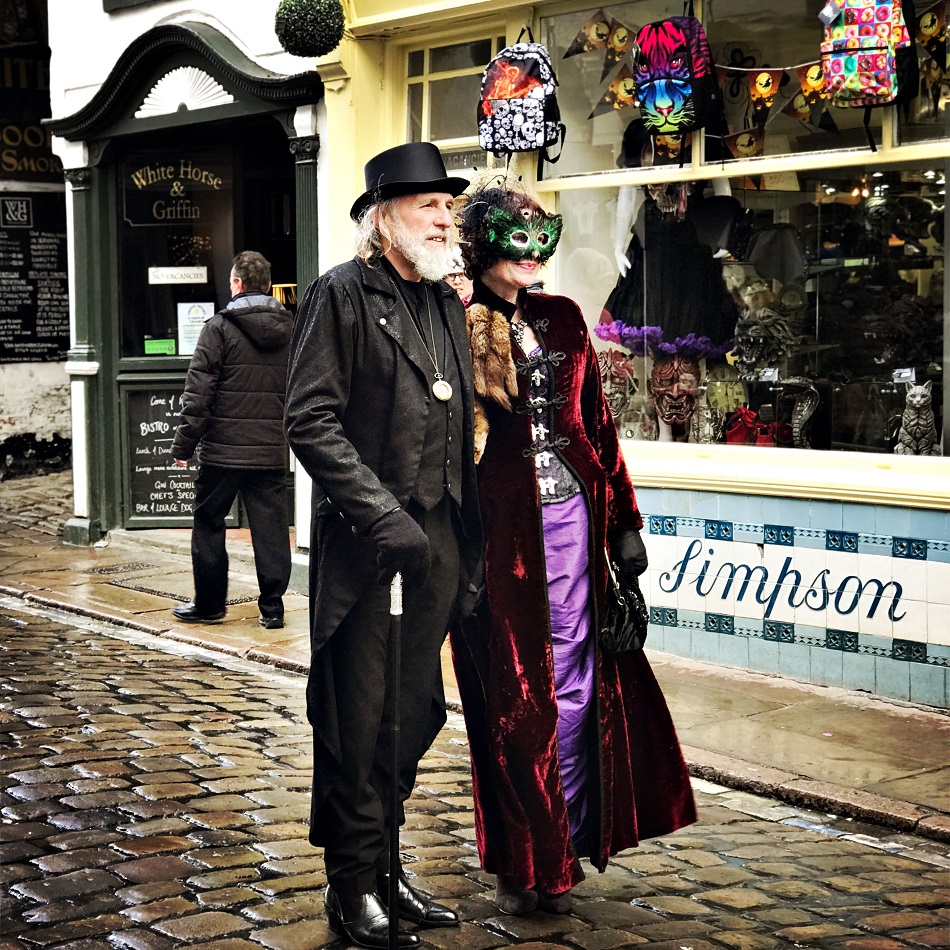 The couple that goths together, stays together? There's certainly no shortage of couples who enjoy dressing up and hitting the town together during Whitby's popular goth weekends.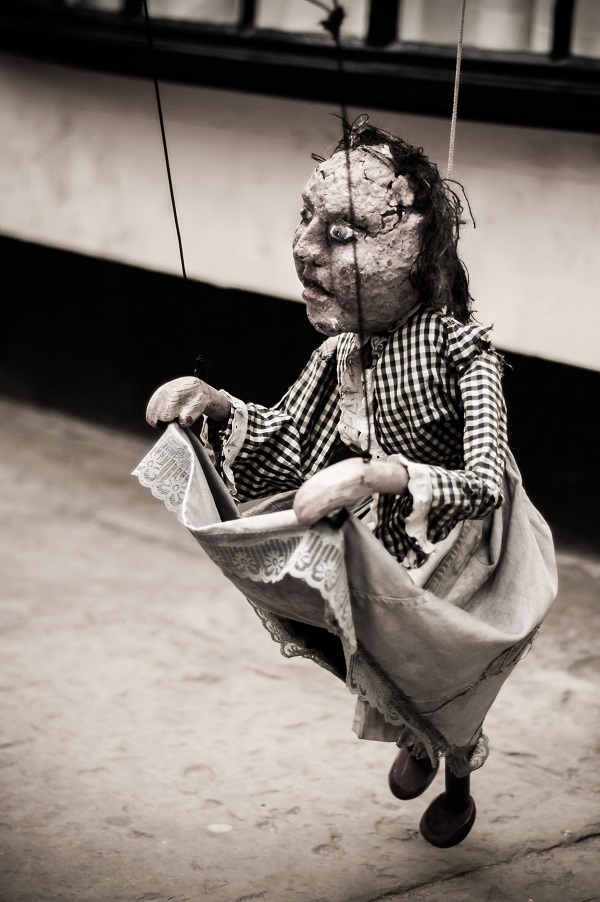 Some would turn and run from this little dear, but she's right at home during the goth weekend.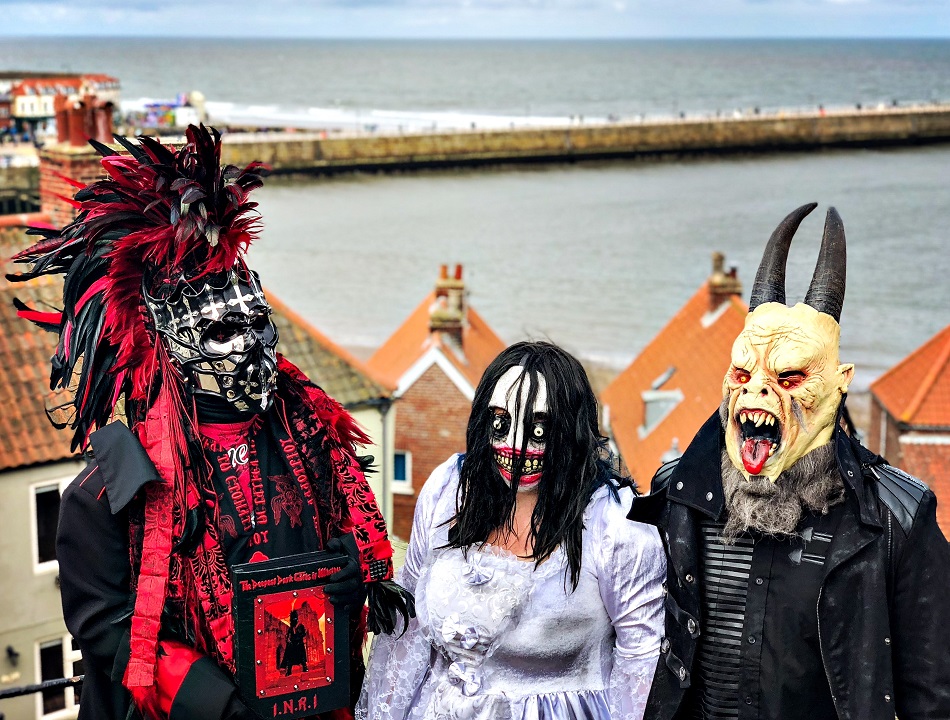 The sheer variety of attire makes Whitby Goth Weekend a bit like a giant Halloween festival (though actual Halloween is a much smaller affair in the UK).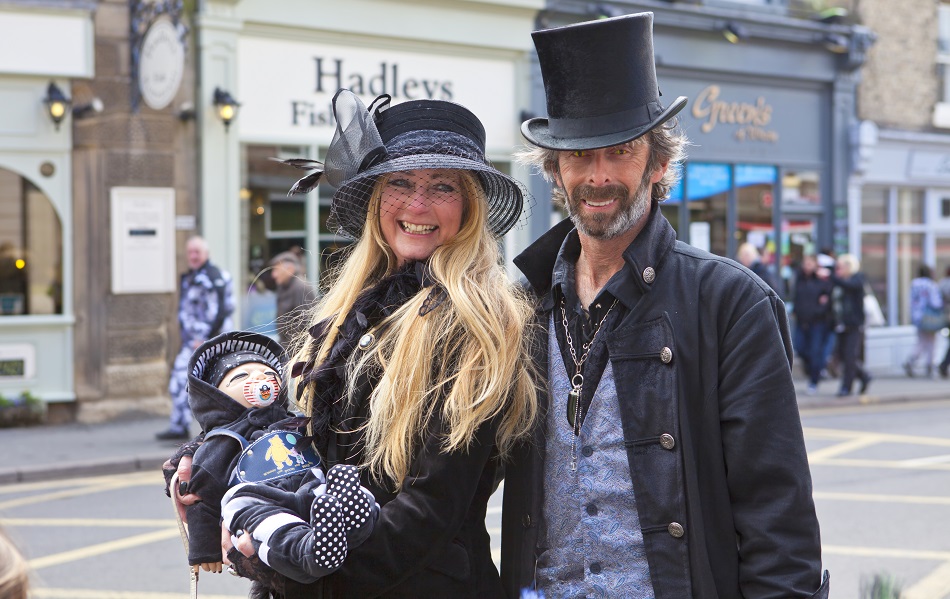 What could be more heartwarming than a goth couple and their…baby?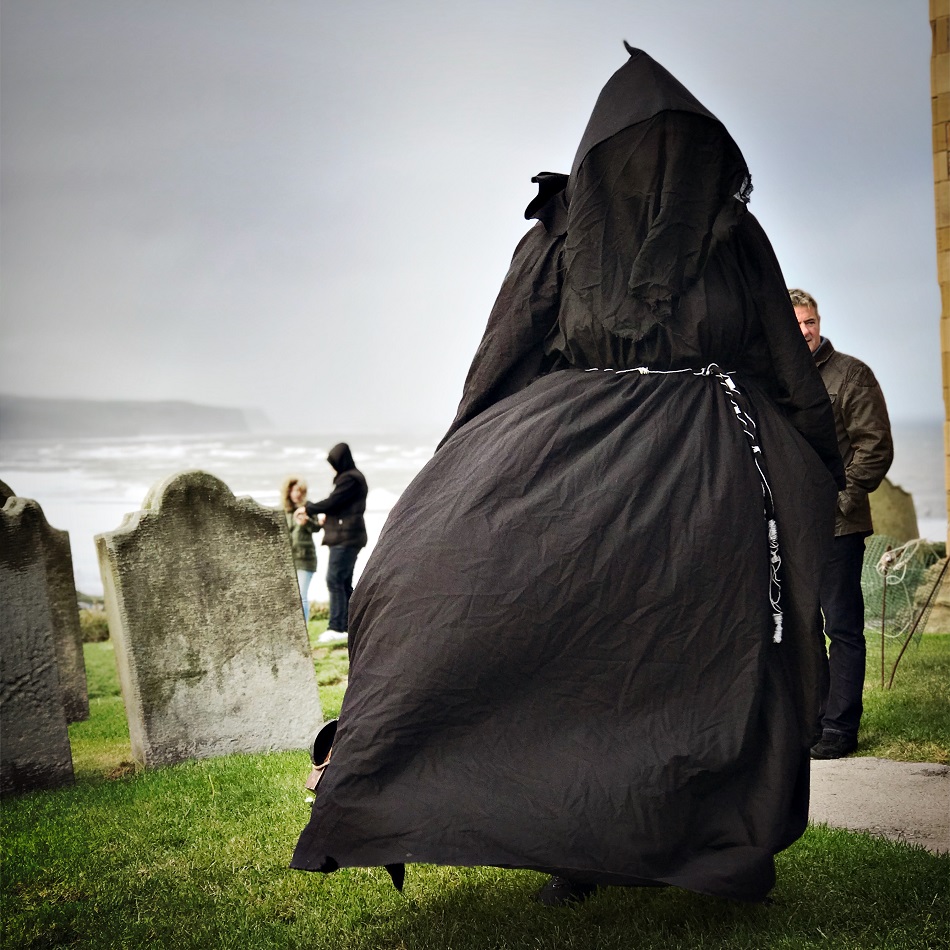 While some costumes are extremely elaborate, others – like this person – go for the classics.
Musical Acts That Have Featured at Whitby Goth Weekend
Though some might be picturing a weekend of Scandinavian death metal, the festival draws a wide variety of unique artists. Below, we've included videos from a few past acts (but only videos from their official YouTube channels to avoid pirated content).
Even if none of it is to your tastes, it's still worth visiting for everything else – but as we mentioned before, the music festival is at the heart of the event.
Captain of the Lost Waves
Captain of the Lost Waves mixes music and storytelling to create something utterly enchanting.
All Living Fear
This English gothic rock bank comes from the South West of England, and the video below showcases one of their past Whitby Goth Festival performances.
Pop Will Eat Itself
This one's an alternative English band that performs a variety of styles ranging from grebo to more sample-driven indie and industrial rock.
Rayguns Look Real Enough
This stadium rock band performs with a real tiger…sort of.
Aurelio Voltaire
Aurelio Voltaire is a goth singer, comic book creator, and animator – and the video below is worth checking out for the background decor alone.
Other Acts
The few artists above are just a small sample of the acts that have performed at past festivals. Below, you can check out a past weekend promo video that will give you an even better idea of what it's like on the musical side of things.
Would You Visit the Whitby Goth Weekend?
Do you fancy a goth weekend in Whitby? Or would you prefer the town at a quieter time? What's your ideal strangeling getaway?
Save it to Pinterest!